REUNION OF FAMOUS DJ'S AND EMPLOYEES OF THE ROSS REVENGE
On October 30 2016 a unique reunion took place of disc jockeys who served on the famous offshore radio ship The Ross Revenge! Disc jockeys and employees from Belgium, Netherlands , the United Kingdom and Ireland where among the famous dj's Nick Richards , John Lewis , Bart Steenman , Dave Foster ,Vince Holland and Chris Pearson. Some dj 's like Nick Richards ( Radio Caroline ) and Bart Steenman ( Radio Monique ) has not been a board fort he last 30 years! They had a lot to talk about, shared old photographs, were live on the air on radio Caroline North (medium wave, fm and internet) talking about the old days and  friendship . Bart Steenman was live on air in several interviews and contrubutions with Nick Richards and Chris Pearson talking about the friendship between them and the Dutch and UK crew. Most of them also served in the same periods.They stayed aboard from the morning until the evening. In this report from our correspondent a board we show you many pictures,  and even movies about the  mentioned interviews and ship!
The true story of Radio Caroline.
 DJ Tony Blackburn 1965
The trip was also organised by their old colleague the famous Albert Hood who organised the tendering and supplies for more than 40 Years. (Photo 4 ) He was there just after the Mi Amigo sunk. He was the person who warned about the state of the Mi Amigo anchor chain back than and refused tob ring people aboard at one point. He was in contact with Ronan 'o Rahilly . He has seen it all. And now he is there,   still organising the tendering,  now as volunteer, and from now on you can go there too just by calling him at 07984572353  or from abroad 00447984572353 or email him at

[email protected]

 
Some of the crew stayed in the famous little hotel 'Stonar quest house' in Clacton on Sea. (photo 3a)  Were people are used to Offshore pirate radio for 50 years
    
The KR1 crew went aboard on the official Ross Revenge tender Razorbill 3", (photo1 and 5) stationed on the wonderfull Mersey Island to go tot he Anchor place in the middle of the River Blackwater which is a 5 miles wide water near open sea, so the ship is really anchored in the middle of open water like in the old days!
   

DJ Ruud van Heemskerck (KR1) had a conversation with Albert Hood about the history from the Ross Revenge for writing the report about the reunion of all DJ's.
The Ross Revenge becomes closer and closer 🙂
 
Safety instructions were given because,(photo 6, photo 7) unlike in the old days,  everything is done now by insurance rules.
Old memory's about nasty weather etcetera were shared, the Ross looked ok,  is still getting its paint it seems, and looked majestic knowing the history and the impact it made on the world. Its good she is still there. The 90 meter high mast was broken but a lower mast is on her now giving her that special look again. People felt the old magic approaching the old Ross.
  
And nearby they noticed a difference. In old times they had to climb up but nowadays a door has been made in the metal fence, so entering is quite easy now. No raffles the dog wit its head out of a hole now. He spend his last 5 years on land we heared. All crew of Caroline were waiting fort he tender just like in old days and welcome us. 
    
A board some slight differences were noticed but it looked about the same, some things disapeard other things new or refurpt. DJ Ruud van Heemskerck was surprised and went directly to the transmitter what is in under the deck.
The famous DJ's from Radio Caroline Nick Richards en John Lewis decided to make a live video transmission for their listeners because it was a special reunion day and because the KR1 DJ's were on board after 30 years.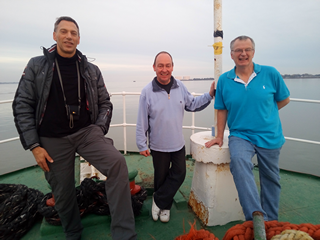 It was a amazing feeling to be on board again Many memories comes back from the old days, we were impressed how the Dj's the dream from Radio Caroline keeping alive. They did it with dedication to so many listeners by playing all kind of music on the radio.

DJ Ruud van Heemskerck (KR1) took a video and pictures of all cozy moments The crew explain here everything about the schip in the old days, People talked a lot. Cheerfull moments  in the diner and lounge. John Lewis still seems to have the same mood it seems because Bart Steenman, the dutch dj mentioned that John used to say in a verry cheerfull way 'moooorning leds!' to the dull faces there which was actually good for the moodback than. 
Of course quests walked around the music room, one of the most wonderfull magic places aboard were the dj's used to meet eachother searching for music enjoyed by millions of people a moment later. Lots of musical inspiration was found here and lots of words about music was said here.


Here we show you a short film shot and comment  by famous Caroline dj Dave Foster, and Dave Foster in the picture and a longer shot of the music room here;
Nowadays the ship complies to todays safety standards, with an emergency light system and drawings of safeways as you can see here, Still the KR1 sticker is on the door 🙂
Lots of things and memory's were brought up I heard Nick Richards and Bart Steenman, old friends, telling many story's to eachother also this amazing story; people were arrested once. Among those Peter Chicago and Nick Richards. In the police station were they should be searched and questioned, Peter discovered he had the secret code lists in his pocket were the codes were on used to order materials via the radio. Peter Ripped the paper in his pocket and gave bits of it to the other crew members under the eyes of the policemen,  with the words; want a chewing gum ? And they all swallowed the code paper ! 
We asked radio Monique disc jockey Bart Steenman to sit on the same places as his old published pictures which offers everyone a great opportunity to compare the situation in 1985 and 2016. As you can see the frontdeck has got more paint on it, a vence is constructed, and instead of the old hughe anchor chain the size of an elbow, nowadays several smaller anchor chains are in place. The buoy 's has changed, there is no Panama on it, and we noticed less thick and less mast wires. Bart on deck, we noticed one chimney is gone, metal things on deck are covered now and dangerous things painted in bright colours for safety i quess. Also a less thicker mast and wires, and it looks cleaner nowadays.

  
The kitchen is new, more luxury than the old situation. One of the few interior things that has really changed, but still you have to make your own mail was telling DJ Nigel like the old days. 🙂
Under the room were the wash use to hang at rainy days is now a souvenir shop with great items by the way. Of cours the DJ's  of KR1 bought many items for sponsoring the Ross Revenge. To everybody we can say that it is worth to visit the Ross Revenge.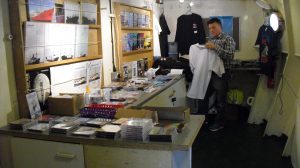 These 3 people were on board at the same time 30 years ago. Caroline and a Monique DJ Nick Richards, Bart Steenman and John Lewis. This DJ's were giving eachoter a lot of information with a very good spirit. It was wonderfull to be back on the ship, there was so much to tell and non time enough. Under you see the same DJ's in the 80ties, In the beginning when we came on board  they did'nt reginise eachother because mother nature has change something 🙂 This pics were taking by Dj Bart Steenman in 1985, The English Dj's were suprised when they saw the old pics after 30 years. You can imagen that the ice was broken  and that we were the VIP's of the day.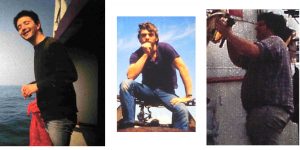 Here an other trio from that time on the Ross Revenge. You see Ron West, Bart Steenman and Walter Simons in 1985. In this time Dutch radio station KR1 was born with DJ's Bart Steenman en Ruud van Heemskerck
Recording of Pirat Radio Station Caroline 1965
Everyone was looking around at the old radio Caroline studio. The old switchboard used in the movie 'The boat that rocked'  (take a look at that here; https://www.youtube.com/watch?v=PdxmrKNac9I  ) is still there ! In the next picture you'll see a laptop and computer. Amazing that a complete studio and all of the record collection fits in there !  In the eighties we could not explain that more than 20 thousand songs fit in a key ring. And  radio Caroline can be heard allover the planet now.
Hier zie je de kapiteins cockpit met alle apparatuur die nodig was om het schip op zee te laten varen toen het nog een ijsbreker, trawler en vissers boot was voordat er radiostations werden geïnstalleerd. De laatste foto van dit setje laat de stuurman kamer zien waar de Noordzee kaarten nog steeds aanwezig zijn.
Free media are still available to spread free independant opinions allover the planet, brought by free radio, tv and internet media without propaganda or capitalistic messages. A secret organisation called Pirates for Peace (

[email protected]

) is coordinating dozens of such media which often result in important worldwide positive developments we see on the news. Also some people working on the Ross Revenge are involved in that. So the spirit is still alive.
We witnessed this; Bart Steenman ( offshore radiostation Radio Monique with 4 million listeners) entered the old Monique studio. Immediately Nick Richards organised a long special interview live on Radio Caroline North with the witty Bart Steenman known for his many voices including the famous dark voice heard back than and now also on many stations like the offshore station radio Batavia and KR1
9the new dutch worldservice after Radio Nederland Wereldomroep stopped) , and  international peace stations, members of the brave Pirates for Peace organisation which gets free media allover the planet also in troubled area's. More Ross dj's and engineers are involved in that.  And quess what,  this interview by Nick Richards with Bart Steenman is filmed and you can WATCH IT here ;

Later on the famous Chris Pearson asked Bart Steenman to do a commercial whith his dark type voice which is also catched on film here. Chris complimented Bart for his work on which Bart Steenman responded with; 'alllllright! " which became the word of the day.
Here we have Dave Foster, Nick Richards and Bart Steenman in the old Caroline studio. Bart tried the old wired potentiometers and memorized lots of joy was brought through them.
The Turntables in the Caroline studio are antique. They were already old fashioned in the eighties. Were Radio Monique used modern technics professional turntables the Caroline jocks liked the decent metal machines. They did the job, and have seen more albums than singles. Dj's spend many hours here to bring Europe 'loving awareness'! The old 8 tracks ! are still there! Hundreds of them! It needed firm handwork to use them. And made the show. Look at it closely and see the familiar sounds. From the 'deep Caroline voice' to Johan Maasbach. Famous jingles!
Listen here the jingels of Radio Monique
The Ross Revenge was kept alive for a big part by.. the people puting their money in a offertory bag in the church ! Radio Monique transmitted vicar Toornvliet for years, and Johan Maasbach shouted his special voice from the mast of the Ross. On medium wave and shortwave. For the shortwave transmitter much less power was needed for a European audience. The frequencies chosen for that were sometimes on ship communication frequencies which was not a clever thing to do. Internet was not available and i quess the engineer just did not know..
The dutch stations on radio Caroline provided far most of the money and materials. Without the Dutch, radio Caroline would have never survived. The Dutch know how to bring in money, and how to do business and organisation in a very effective way. Tapes were sometimes played although far most of the Caroline transmissions were live. This is the original tape deck.
About the dutch service, Radio Monique played more tapes, they used one hour per side compact cassettes. Live programs on Monique were morning, afternoon and late afternoon / evening, and the news. In between that those cassettes.  For just three Monique people on board that was a lot of work. Get up at 4 o clock,  check if the transmitter is on, bringing a 'happy 'morning show, wit hall the jingles and commercials on time, making food,  make news, from this small news room. here you see DJ Bart Steenman in the small newsroom.
      
Bart Steenman explains to us how they did it. The Caroline jocks had their news room behind the Captains quarter in the card room near their studio which was big en comfortable. The dutch however had a 'room' 'the size of a toilet' on the other side of the ship 40 yards away from their studio. Several radios were used to tape the bbc, belgium and dutch news. Antenna's were outside the newsroom just above the water line. The verry strong transmitter otherwise radiates a deadly beam tot their equipment. A radio on deck receives… nothing!  Even the own signal could not be heard. Direct radiation in the radio prevends that. Within the hour their own news had to be written down, recorded and time was recorded, before the hour they contacted the studio by a intercom which had to pass the news signal from the news room on air. Listeners heard the fresh news, and after that the time signal on the hour. Amazing but they managed to do so. Never heard that again, i quess lots of stations are too lazy for that. Sometimes they had a news item which was on air hours before the dutch state radio,  which needed 20 people to do what those three people did in those strange circumstances but they managed to do so in a way which sounded great , on that frequency of 963 Khz, with the best sound of the band because of the optimod am machine, in the 'belly' of the ship which is still in use by  radio Caroline North nowadays! Let's go there!
Hier is de Optimod!! zei zei DJ Ruud van Heemskerck, dit is het hart van het beroemde geluid. Op dat moment werd hij gebruikt voor radio Caroline North uitzending op de middengolf en het internet. Radio Monique regelde destijds het het gebruik op 963 Khz. Sommige figuren van van de Engelse universiteit klaagden wel eens hierover. De Nederlandse DJ Bart Steenman legt uit: Volgens vele luisteraars was dit echt het beste geluid van de midden golf. Het geluid klonk als HiFi beter dan andere radio signalen zoals BBC en NOS, daar was men wel jaloers op. De Optimod machine maakte een speciaal geluid precies in het AM gebied door bepaalde frequenties door te laten en 6 audio frequenties er door heen te drukken in een micro seconde, het resulteerde in een stabiele 100% modulatie die het signaal een versterking gaf, het maakte een krachtige stabiele platte lijn modulatie. De Optimod gaf het best mogelijke signaal voor de middengolf, wat een verschil was het!! en nog steeds een dure machine.
DJ Bart Steenman wijst naar de machine waar het allemaal om gaat, daar naast staat de 50 kilo watt blauwe zenderkasten met daar achter de reserve zender (grijs). de eind zendbuizen hebben een formaat van een elleboog, het is ongelooflijk hoeveel kracht hiervan af komt. (50.000 Watt's)
Hieronder is een speciale machine  die 2 signalen over 1 antenne ter gelijkertijd kan laten gaan door snel te schakelen tussen 2 zender uitgangen. Alles bij elkaar een verbazingwekkend en gevaarlijk hoog voltage systeem op een schip en deed zijn werk geheel over Europa! DJ Bart Steenman verteld: Als ik naar de zenders ging beneden in het ruim klonk er een vreselijk hard geluid van de generatoren.
DJ Bart Steenman was blij als hij door het matrijs raampje naar buiten keek, hij zag de goed afgestemde antenne voor het beste effect van 90 meter hoog op het schip staan, het hoogste gebouw wat ooit op een schip gemaakt is, 90 meter is een halve radio golf wat prima is. De zee zorgde voor een grote massa om af te stralen voor de antenne, waarbij het signaal door een grote spoel ging om af te stemmen op de juiste frequentie.
Dit zijn de 2 generatoren die veel diesel nodig hadden om in de energie behoefte te voorzien om Europa te voorzien van geluid. Naast de generatorenkamer staan de radiozenders met de Optimod ingebouwd. De technici waren altijd wel bezig en ook echt nodig om onderdelen aan de gang te houden, in de generatorenkamer zijn de oorpluggen echt een noodzaak.
De diesel en de bevoorrading werd verzorgd door het schip "Zeemeeuw" en vertrok vanuit Oostende in België. Tussen de dubbele beplating van het schip zaten verborgen tanken om grote hoeveelheden diesel mee te nemen. Ook het verse eten en water voor de Ross Revenge bemanning en  de muziekbanden voor de DJ's  werd mee genomen. De bevoorrading werd gedaan door dit schip en ook door een ander schip vanaf de Engelse kust die niet aan de kust lag maar op zee zodat het niet opgemerkt werd.
Op de Ross Revenge sliepen de DJ's in een kleine cabine, DJ Bart Steenman vertelde dat het water uit de kranen soms zout was door gebrek aan zoet water, het was echt behelpen in die tijd.
Af en toe worden de grote scheeps motoren getest omdat het belangrijk is dat het schip nog uit zichzelf kan varen, het hele schip begint dan te schudden, maar het is belangrijk dat alles blijft werken. Kapitein Bob controleert hier of alles goed gaat. In het verleden is het wel eens gebeurt dat de ankerketting brak en dat de motor niet wou starten. De motor is enorm krachtig omdat het schip vroeger een ijbreker was om vis te vangen. De deuren machinekamer zijn luchtdicht afgesloten om veiligheids redenen.
Na 30 jaar liep DJ Bart Steenman naar zijn slaap cabine en zijn "Wall of fame" waar zijn naam nog steeds op de deur staat.

Op een normale dag is iedereen aan het werk, in de radio Monique nieuwskamer en studio's , in de waskamer, de was werd opgehangen aan dek aan de kortegolf antenne of binnen als het regent. Ook werkte men in de keuken of relaxing in de kajuitkamer. Reparatie of schilderwerk was er ook altijd te doen, als je klaar was met schilderen kon je weer opnieuw beginnen omdat het altijd roestig is op zee. Tussen alles door liep er ook nog de hond Ruffles, een complete familie op een klein drijvend dorp kun je wel zeggen.
In de avond op zee kunnen de mensen een prachtige zonsondergang zien. Op onze dag was het prachtig weer en DJ's Ruud van Heemskerck end Bart Steenman voelden zich radiovrij 🙂 Nog even na praten met de bekende DJ's Nick Richards en John Lewis aan het einde van onze dag. De tenderboot naderde en lag te wachten om ons terug te brengen naar het vaste land.
Een pirate nacht op radio Caroline 

Na een fantastische dag is het tijd om afscheid te nemen van onze radio vrienden, we hadden zo veel gemeen met ons radio werk dat we besloten hebben om nog eens terug te komen. Het word al donker en ook in het donker als de verlichting aan gaat van het schip krijgt het iets koningklijks omdat het zoveel te vertellen heeft. Met enige emotie drijven we  weg van de "Ross Revenge" met de tenderboot "Razor Bill 3" terug naar Holland voor een nieuw verhaal over een ander radio schip wat ook gelegen was aan de Noordzee.
 
Het schip de Ross Revenge functioneert nog steeds. Deze reunie was geweldig voor iedereen die bij het radiowerk betrokken is om zo goede een indruk te krijgen in het radio wereltje wat ook goed is voor het voort bestaan van de Ross Revenge. Het is echt een aanrader om daar eens te gaan kijken en wat van hun promotie materiaal te kopen. Het geld is echt hard nodig omdat het alleen al 600 pond per maand kost om daar op zee stil te liggen, ook de diesel voor generatoren en de reparatie werkzaamheden gaan gewoon door. het schip is altijd bemand nu en de tenderboot vaart regelmatig. Voor ons was het bovenal geweldig om live radio te maken bij de beroemde Radio Caroline op de Ross Revenge met de Nederlandse KR1 DJ's !